Dsoon APP Setting-Up
1. I failed to save the data after setting, what can I do?
Contact Dsoon team directly via [email protected] and we will send you the firmware named "Rom_Code.BIN", which would take two minutes to complete the upgrade.

Video link:

2. How do I connect my wifi trail camera to my phone?

1. Make sure that the micro SD card and battery are properly installed in the camera. And the switch is in "ON" mode. (If adjust from "TEST" mode to "ON" mode, you need to wait for the end of the 15-second countdown on the screen.)

2. Download the "Dsoon" APP from App Store or Google Play, or scan the below QR code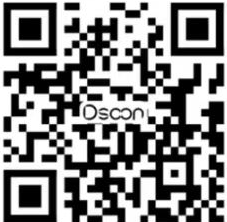 3. Open the "Dsoon" APP and click the "Add camera", then click the "Step 1: Connect camera Bluetooth" and select the option named "Trail Cam Pro" in the Bluetooth list that appears in the app. The app will display "Turn on WiFi successfully, please connect to the camera", meanwhile, the trail camera screen will light up and go off immediately.
4. The phone may jump to the WiFi network list, if it does not automatically jump or jump to the permission access setting page, you can manually enter the phone WiFi list. Wait about 30 seconds in the phone Wi-Fi list, and the WiFi hotspot named "Trail Cam Pro ******" will appear. Enter the initial password "12345678" to connect to WiFi. (If you can't see this hotspot, please wait or refresh/restart phone WiFi, or reset the trail camera).
5. After the WiFi connection is successful, go back to the App interface to operate the functions accordingly.


Next time just connect the camera to the APP:
Open the "Dsoon" APP and click the "Add camera", then click your camera in-camera list.
Wait about 30 seconds in the camera list, "Dsoon Wants to Join WLAN Network Trail Cam Pro ******" appears, and click "Join".

Video details:
3. How to format the SD card?
Click the "Menu" button and make a choice of the "FORMAT MEMORY CARD" function