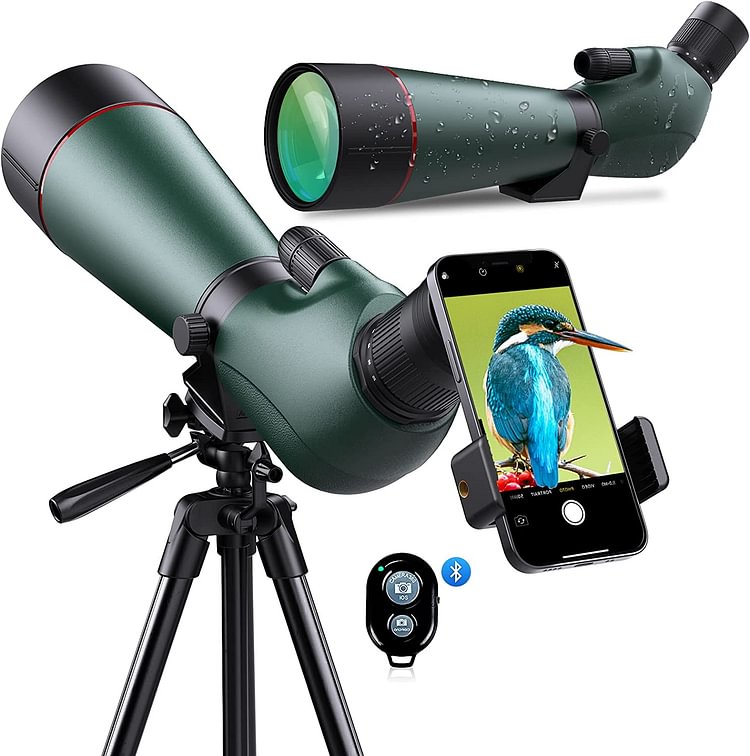 Zoom lens change magnification power from 20x to 60x via the zoom ring. Adjustable eye relief of 14.5-16.8mm is very comfortable. They are ideal for target shooting, hunting, bird-watching, wildlife spotting, and even astronomy.
A larger objective lens provides brighter images. Dsoon spotting scopes have a very powerful 80mm objective lens to give lots of light and large, clear images. The green film and fully multi-coated optical system increase light transmission and make your view brighter, and clearer and delivers crisp images even in low-light conditions (such as late at night) or at high magnification power. Field of View 49.5-99 ft @ 1000 yds.
Dual Focus Knobs provide two different focusing speeds. You just twist the knob to make the image sharper and permit more precise focusing. With a 45° angled spotter scope and a Rotatable tripod mounting base, you can change the angle for more comfortable viewing. Retractable sunshades reduce glare from sunlight.
Packing List:1 x Spotting Scope;1 x Extendable Tabletop Tripod;1 x Phone Adapter;1 x Bluetooth Remote Control;1 x Carrying Bag;1 x Cleaning Cloth;2 x Lens Cap;1 x Manual