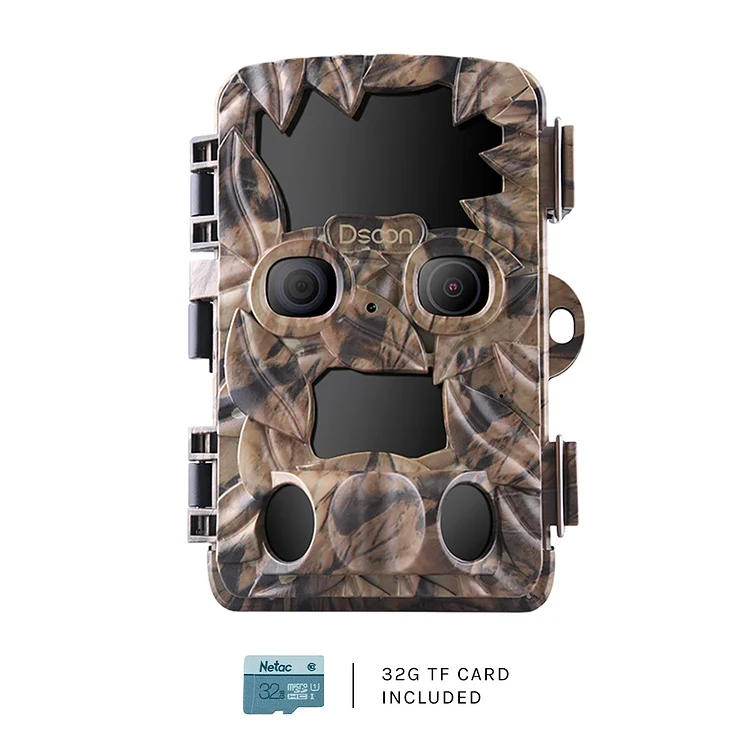 Features advanced dual-lens design, designated day & night lenses for clearer recording in light and dark conditions. 4K image/video resolution supported within 85 ft, 1080P image/video quality in Night Vision mode (up to 65 ft away). Completely eliminates image noise in night vision.
Incredibly Fast 0.2 Second
Trigger Speed
Starts recording from standby mode in 0.2 seconds and produces 20 megapixels images. Quicker, more accurate capture of high-speed moving objects such as birds and even motor vehicles. Trigger distance reaches up to 82 ft (25 meters). Don't miss a single exciting moment
IP66 Waterproof & 18-month Standby Time
Protects against continuous rainfall,snow and heavy dust. Standby time up to 18 months, supports 512GB SD card. Made durable for extreme environments!
2.4" LCD & 120° Shot
Equipped with a 2.4" color LCD screen and a 120° wide-angle lens, unlimited playback/scrolling. With 3 Infrared sensors & 44 pcs infrared flash technology!

Accessories Kit & Back-Up
Equipped with 1 x Trail Camera, 1 x Strap, 1 x Mini-USB Cord,
1 x AV Cable 1 x Mounting Platform (32G TF Card Included)